William Alwyn Festival 2014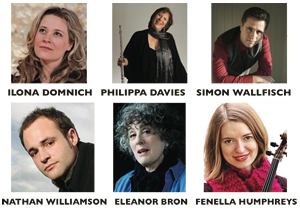 The Festival runs on Sunday 5th October and from Thursday 9th October to Saturday 11th October 2014.
Tickets will be available through the following outlets:
Aldeburgh Music Box Office – Tel: 01728 687110   
E-mail: boxoffice@aldeburgh.co.uk  
Web: www.aldeburgh.co.uk
Southwold Tourist Information Centre – Tel: 01502 724729
Woodbridge Violins – Tel: 01394 383150  
E-mail: info@woodbridgeviolins.com 
This year Alwyn will be represented by two major song cycles, 'Invocations' for soprano and piano and 'Mirages' for baritone and piano, 'Twelve Preludes' and 'Haze O' Noon' for piano solo, 'String Quartet No. 2 (Spring Waters)', 'Sonatina' for violin and piano, 'Tragic Interlude' for orchestra and the 'Flute Concerto' in the orchestral version arranged by composer John McCabe, who this year celebrates his 75th birthday. Alongside these works will be music from the standard repertoire, plus music by Alan Rawsthorne, Gordon Crosse, Peter Dickinson, Christopher Wright, Andrzej Panufnik (who's centenary of birth falls this year), Peter Hope, John McCabe, Doreen Carwithen, Lloyd Moore and many others. There will also be a talk on 'William Alwyn and his Poetry' a poetry and music event and a Festival Evensong.
In addition to his music for the concert hall Alwyn was a highly respected and successful film composer of some two hundred scores, which includes music for both documentaries and feature films. Examples of both these genres will be represented during our film matinee at the Electric Picture Palace in Southwold. To begin there will be a rare screening of the documentary 'Our Country' (1944), scripted by Dylan Thomas, (who's centenary of birth falls this year), which will then be followed by the classic feature film 'The Card' (1952) starring Alec Guinness, Valerie Hobson, Glynis Johns, Edward Chapman and a very young Petula Clark.
A very warm welcome is extended to our critically acclaimed artists appearing this year who are as follows: Eleanor Bron, Philippa Davies, John Turner, Nathan Williamson, Ilona Domnich, Simon Wallfisch, Nigel Foster, Fenella Humphreys, The Tippett Quartet, Lisa Cassidy, Jonathan Rutherford, The Blythburgh Singers under their conductor Ellis Bell, Bernard Saint and the Prometheus Orchestra under the direction of Edmond Fivet.